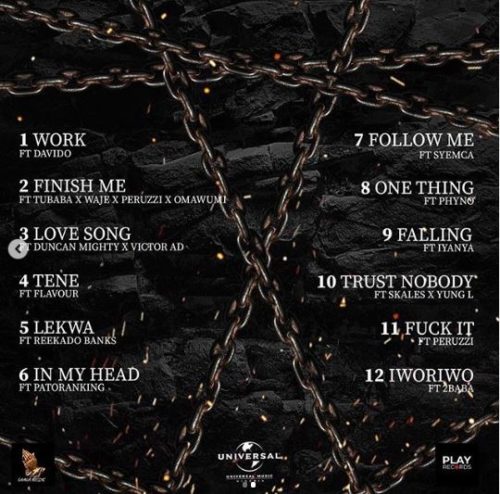 Larry Gaaga, 2Baba, Peruzzi, Waje and Omawumi joins forces for "Finish Me".
Gaaga Muzik serves a new record titled "Finish Me". To accomplish this Larry Gaaga teamed up with living music legend, 2Baba and vocalists, Waje, Omawumi and Peruzzi. This is another masterpiece on the 'Living In Bondage' soundtrack album, a project that host more than 10 Nigerian A-list artiste.
The song compliment with the title of the new movie, when you are living in bondage it will get to a point where you quit the relationship or face the problem and tell it to finish or kill you.
These music gurus did justice to 'Finish Me', they all delivered great verses and message. Listen!
- DISCLAIMER -
(www.naijaoctopus.com.ng) do not claim ownership of any of the Songs and Videos that we upload and any copyright infringement complaints will be executed immediately! It is our policy to honor all take-down requests! Email Us via naijaoctopus@gmail.com
- CONTENT REMOVAL -
If you believe that this page has violated your copyrighted/protected material(s), please kindly Contact Us for immediate removal, or mail us at naijaoctopus@gmail.com stating the content name/URL of the page. Thanks.
To upload your music on (www.naijaoctopus.com.ng) and get massive download, contact us now via:
Whatsapp/call: 09053507350 or 08162392390
Email: naijaoctopus@gmail.com
Copy the link below and Share with your Friends:



Article Name


Larry Gaaga – "Finish Me" ft. 2Baba x Peruzzi x Waje x Omawumi


Description





Author Name



NAIJAOCTOPUS




Published On



Sunday, November 03, 2019

 


Post Category


MUSIC



---
---